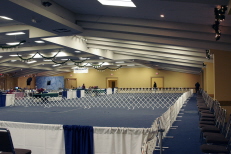 Our fully carpeted rings with seating for over 250 spectators with a view of all the dogs being judged!
Showing dogs is a great sport where the thrill of competition is combined with the joy of seeing beautiful dogs.
Conformation dog shows are one of many types of Canadian Kennel Club dog events in which purebred Canadian Kennel club registered dogs can compete. These events include dog shows, tests of instinct and trainability, such as Obedience trials, Canadian Good Citizen tests, Field trials, Agility trials, Lure Coursing, Rally, Hunting tests, Herding trials and Tracking Tests. Details of these events can be found at "www.ckc.ca"
Dog shows( Conformation events like these offered by the Elora Gorge Kennel Club) are intended to evaluate breeding stock. The dog's conformation (overall appearance and structure), is an indication of the dog's ability to produce quality puppies.
All-breed shows, like the Elora Gorge Kennel Club Shows, offer competitions for over 150 breeds and varieties of dogs recognized by the Canadian Kennel Club. All-breed shows are the type most often shown on television.